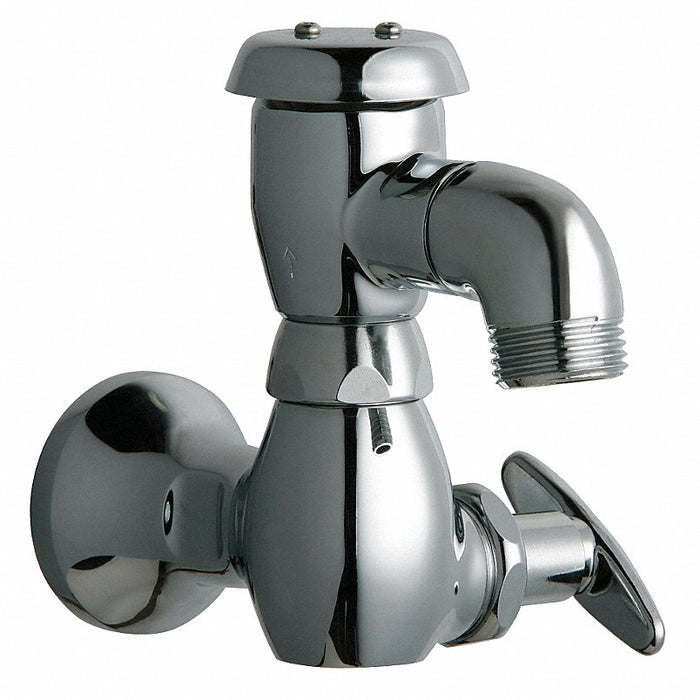 Chicago Faucets 952-CP Single Hole Mount, 1 Hole Low Arc Sill Faucet, Chrome plated
Optimize water efficiency and regulate usage by outfitting your sink with this Chicago Faucets inside sill fitting with polished chrome finish. With its high quality polished chrome finish, this faucet is suitable for a diverse range of settings. This unit has a rated operating pressure of 20 to 125 PSI and a rated operating temperature of 40 to 140 degrees Fahrenheit for optimal performance.

Control water flow and prevent leaks with the help of the slow compression operating cartridges. Designed with the utmost convenience in mind, the vandal-proof 2 1/4" tee handle is easy to grip and turn. Prevent water pollution with the help of the vacuum breaker assembly. The wall-mounted design and 3/4" NPT female thread inlet make this unit easy to install. Plus, this sill fitting comes with a 3/4" male garden hose outlet.
2P955,G1406474,857952CP,B002UAV0E8,CHF952,93620
3/4" NPT female thread inlet
Polished chrome
Package Dimensions: 6.5 × 4.5 × 5.12 in